Read the full article on Curbed. Our Thanks to Curbed for featuring a Native American. Have I mentioned what a great job Yale University is at bringing in Native American students and teachers?
Chris Cornelius is an architect, a citizen of the Oneida Nation of Wisconsin, and the newly named chair of the department of architecture at the University of New Mexico. Both his architecture practice and his teaching are informed by an Indigenous perspective that prioritizes environmental responsibility, and his designs often translate elements from folktales into built form. Take the studio:indigenous founder's unbuilt proposal for the Oneida Visitor Center, which features an observation tower offering visitors the perspective of the Sky Woman from the tribe's creation story. This year, Cornelius taught a design studio at the Yale School of Architecture and is also one of the inaugural fellows at the Forge Project, a Native-led initiative headquartered in the Hudson Valley with a modular guest house designed by Ai Weiwei. Following Cornelius's cross-country move to Albuquerque (where his new campus sits on the traditional land of the Pueblo of Sandia), we talked over Zoom about land transfers, a tree funeral, and tricksters.
You have a unique practice that centers indigeneity as both an architect and as an educator. What was your path like to get here?
At first, I didn't think about how I was going to incorporate my culture. I just thought I'd learn to be an architect and then work for my tribe. But in grad school, I started to build this critique. I thought there had to be a better way than the school shaped like a turtle on my reservation, which references Turtle Island, an Indigenous name for North America. You know, what Robert Venturi calls the "decorated shed," like that duck-shaped egg stand? That's not what I was trying to do! I started to think about how I could translate stories in a new form and in a more experiential way. Around the same time, I figured out I wanted to teach. I started to ask, "How can we make more empathetic designers?" At the moment, I'm doing Indigenous design work mostly for non-Indigenous clients, a lot of them universities. These institutions see the value of indigeneity, but they don't know how to integrate it into their physical space.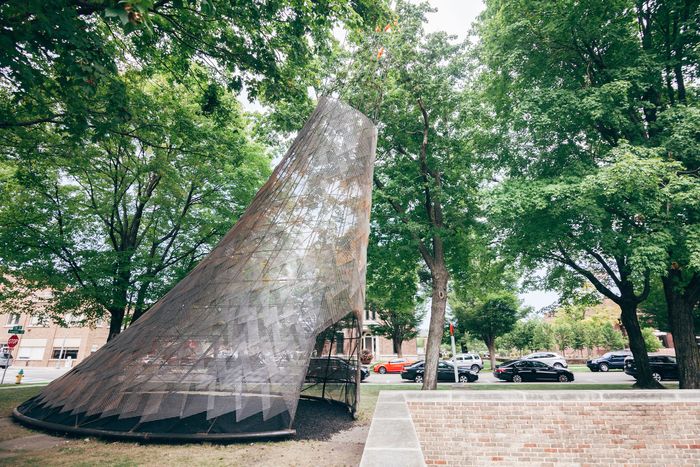 Wiikiaami, a temporary pavilion for the 2016–2017 Exhibit Columbus constructed on the site of First Christian Church in Columbus, Indiana. studio:indigenous won the Irwin and Xenia S. Miller Prize. Photo: Courtesy of Chris Cornelius and studio:indigenous